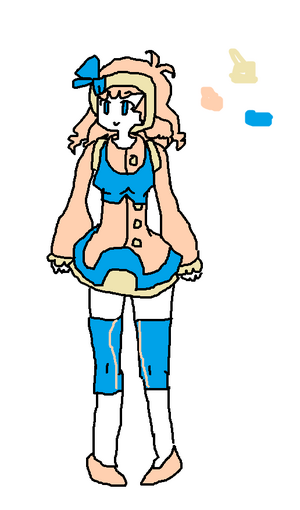 0044 (Koyoyo/Sugar/Dahlia) is a charming little lovely with knee-warmers and a pleasant color scheme.
Headcanons
Edit
A living doll. Denies being a doll and always tells people she is a real human girl.
Works in a bakery with 0012
Backpacks across the country with 0022

One time, 0009 took her to explore a cave. She gat scared by a swarm of bats and has vowed never to enter a cave again. However, she was interesting in the rocks and enjoys hiking through the mountains.

Has trained her entire life to become an idol. She's still working on it. Mostly, she bounces.
Name is Sugar.
Although she likes hiking and backpacking, long hours of standing in the bakery has given her knee trouble, so she has to wear knee braces
A big fan of My Little Pony. Pinkie Pie is her role model and she wants to be just like her.
Fanfiction
Edit
Ask Blogs
Edit