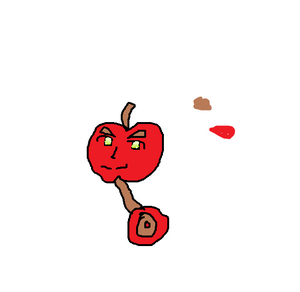 0042 appears to be an apple with a face rolling around on a wheel.
Headcanons
Edit
apple segway
Named "Lil Memey". He enjoys memes and apple puns.
Is completely omniscient and knows the fate of the world of Fanpro. He isn't willing to give spoilers, however.
Is romantically interested in 0054 , who he knows has a crush on him, but is hesitant to pursue the relationship because he doesn't want 0054 involved in his complicated and dangerous life.
Occasionally appears in front of other Fanpros, offers cryptic hints about their future, then wheels away cackling.
Likes to rob thrift stores.
He's madly in love with 0044 but she doesn't even realize he's sentient.
0042 really just wants 0040 to stay away from him.
Main love interest of Fanpro.
Comes from a magical tree, and there used to be many more of his kind, but they have all mysteriously dissappeared.
married to 0058
Fanpro 1117's lover.
Fanfiction
Edit
Ask Blogs
Edit