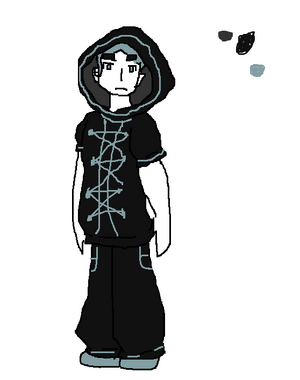 Headcanons
Edit
Is horrible at pick up lines due to 0032's influence.
Is the person most of the characters go to for advice.
Very unlucky. This causes some of his social phobias, understandably.
His eyes are sensitive to light, so he wears his hood up for comfort.
Dyslexic.
Likes to cook though because he loves the smells and tastes and he always cooks more than he needs when packing lunches so he can share with others.
He's not the best at finding his words so he likes to listen to others and offer them the comfort of companionship if he can't do anything else for them.
Incredibly awkward in social situations. Prefers to be alone in his house/cave.
Everyone is scared of him because he's naturally sort of scowl-y, but really he's just shy.
Is 0050 's brother.
Has mild synesthesia, which is why he likes the smells and tastes of cooking.
listens to system of a down
He's the carpenter in 0081's pirate crew.
Secretly has a crush on 0032.
Fanfiction
Edit
[ 1 ] - severalbadpunslater [ 2 ] - severalbadpunslater [ 3 ] - severalbadpunslater
Ask Blogs
Edit