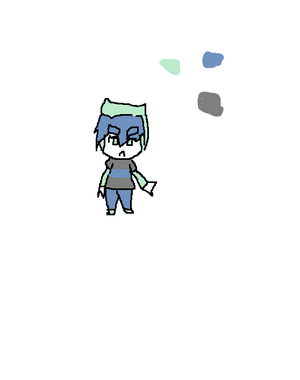 0006 is a very small character with childlike proportions, with a color scheme of grey, blue, and pale green.
Nicknamed Buttmuncher.
Likes VOCALOID
Likes to bite people's butts. Also enjoys chewing on 0005's hair.
Siblings with 0024.
Is the type of person who appears out of no where and yells, "I'M HERE TO TELL YOU THAT YOU NEED TO STOP"
Has REALLY thick eyebrows that no matter what he does, he can't wax or shave. He's had them for so long, he's become 'That Eyebrow Guy'
Goes on long walks in the woods to brood and kicks stones around as he is very angsty and has a short temper.
The only things he gets along with are cute animals, he seems to hate everything else.
He likes to hide in burritos.
Will randomly lick peoples faces to see what they taste like
"ok"
Carries a shard of glass in his left hand to look intimidating
Is dating 0037
Community content is available under
CC-BY-SA
unless otherwise noted.